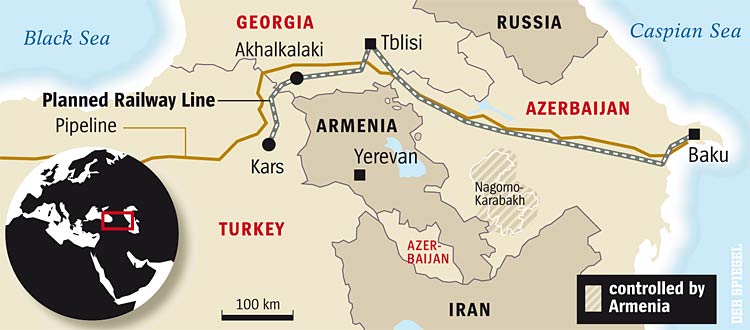 Der Spiegel
04.12.2012 (HTN - Hvino Tour News) The first train of Baku-Tbilisi-Kars (BTK) railway will be launched by the line at the end of 2013. The statement came from Deputy Minister of Transport of Azerbaijan Musa Panakhov today.
The project was originally to be completed by 2010, later it was scheduled for completion by 2014.
Once completed, BTK - called "Iron Silk Road" - will begin at the Azerbaijani capital of Baku and travel through Tbilisi, before carrying on to Kars, a Turkish town on the southwestern lip of the Caucasus region. In total 105 kilometers of new line will be built between Kars and Akhalkalaki, with 76 kilometers within Turkey and 29 kilometers in Georgia. The existing railway line from Akhalkalaki to Marabda and on to Tbilisi and Baku will be modernized. Its total length will be 826 kilometers (513 mi) and it will be able to transport 1 million passengers and 6.5 million tons of freight at the first stage. This capacity will then reach 3 million passengers and over 15 million tons of freight.
© HTN (Hvino Tour News)