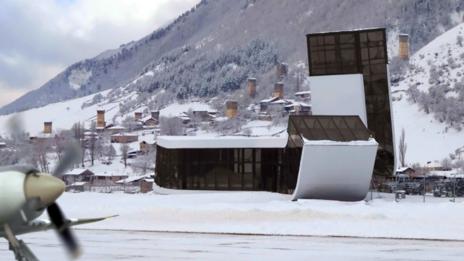 16.05.2014 (Hvino TOUR News). Most airports are purely functional, but these are architectural wonders.
BBC's
Jonathan Glancey shows where flying becomes a work of art.

Georgian Queen Tamar Airport of Mestia is on the list of ten most beautiful airports in the world along with the airports of Hong Kong, Uruguay, Venice, California, Scotland, Japan, France, Saudi Arabia and Jeddah.

"Mestia is a small ski town, 1,500m up in the Caucasus mountains in northwest Georgia and its churches and forts form a Unesco World Heritage site. The bizarre new airport terminal – in the guise of an extruded square steel and glass section bent into three improbable directions – is the work of the German artist and architect Jurgen Mayer-Hermann. The black and white structure has been designed to attract the curious and to help put Mestia on the map of the modern world," BBC informs.
© Hvino TOUR News