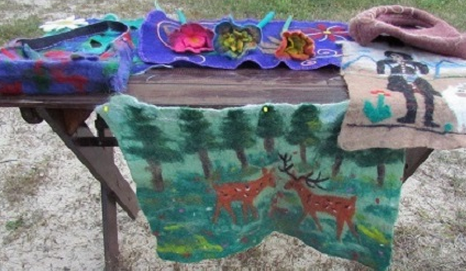 24.01.2015. A large-scale project will soon be implemented in two of Georgian regions to help poor communities and micro-entrepreneurs in tourism sector. The World Bank, as the administrator of grant funds provided by the government of Japan through the Japan Social Development Fund, and Biological Farming Association Elkana have signed today a Grant Agreement on a 2.5 million USD project - Empowering Poor Communities and Micro-entrepreneurs in Georgia Tourism Sector.
The agreement was signed by World Bank Acting Regional Director for the South Caucasus, Joseph Melitauri, and Director of Elkana, Mariam Jorjadze. This three year project will be implemented in close cooperation with the Ministry of Regional Development and Infrastructure of Georgia, the Municipal Development Fund, and the Ministry of Internally Displaced Persons from the Occupied Territories, Accommodation and Refugees of Georgia.
The overall objective of the project is to generate employment and increase household income of poor and vulnerable communities in the Kakheti and Imereti regions, where there are ongoing World Bank-financed regional development projects to support tourism development and urban regeneration. The Japanese funding will now support communities to start/grow small and micro enterprises (SMEs) in the tourism and organic food processing sectors and implement small community works in vicinity of cultural heritage sites.
In Kakheti, the project will be implemented in Telavi, Kvareli, Dartlo and around improved cultural heritage sites under the Regional Development Project. In Imereti, the project will target Tskaltubo, Vani and the area around improved cultural heritage sites under the Second Regional Development Project. "The activities supported under the Kakheti and Imereti Regional Development Projects bring direct development impact and benefits to the residents of these regions.
The tourists visiting the two regions attract substantial amount of private sector investments in tourism and tourism-related economy, directly or indirectly," said World Bank Program Leader for Sustainable Development in the South Caucasus, Ahmed Eiweida. "It is important to provide additional opportunities to the local population to increase their economic benefits from visiting tourists.
About 80 house owners in Kakheti have already transformed part of their properties into and SME, such as hand-crafts workshop, souvenir shop, cafe, restaurant or a guest-house, earning more income and improving their economic livelihood themselves," he added. The JSDF signed today will help more than 500 households in Kakheti and Imereti to also start new businesses, especially women. Around 2,700 poor and vulnerable people, including IDPs especially in and around Tskaltubo, will directly benefit from this project.
Beneficiaries also include local entrepreneurs interested in starting a business, home-based enterprises, women-managed enterprises, such as hand-crafts producing, guest-houses, cafes/restaurants, souvenir shops and local food processing businesses. Other members of the local community will have a chance to participate in community-driven small works initiatives around cultural heritage sites, such as improved access roads, drainage, street lighting and parks.
The grant will equip local poor and vulnerable individuals with competitive matching grants, know-how and information. "The project provides excellent opportunities for the poorest and most vulnerable segments of local communities to get business orientation, to generate income and thus contribute to the development of local economy.
Elkana has a solid experience and a track record of achievements in this regard throughout Georgia," said Director of Elkana, Mariam Jorjadze. The Biological Farming Association Elkana is a non-governmental Georgian organisation founded in August 1994.
The association aims to improve the socio-economic conditions of the population of Georgia and to ensure environmental protection through fostering the development of sustainable and organic farming and increasing the self-reliance of the rural population. World Bank commitments to Georgia since 1992 total approximately 2.27 billion USD.
To add this Search Box to your website, click here. Many designs are available.