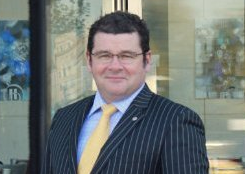 Interview with Stuart Nelson, General Manager at Hilton Batumi
What are your expectations after the opening of the "Hilton" hotel in Batumi ? What are your plans in this regard?
I would be happy to say that after the opening of the hotel will be able to rest, but alas, it will not work – we will continue to develop, conduct training, correct any flaws with one main purpose – to meet the needs of our guests, and even exceed them.
Batumi and Georgia as a whole is a very good new market for "Hilton". In Georgia, there are a lot of very positive and interesting traditions – hospitality, wine, delicious cuisine, so we will do everything in order to develop them, so that a new and exciting time awaits us.
We have a lot of plans, but still I cannot talk about them in detail. For example, we intend to open a Georgian restaurant, the products for which we'll buy from local farmers.
And it is just the beginning.
Many hotels of the world brands are operating in Batumi. How do you plan to compete with them?
We'll offer novelties in the Georgian market, and we hope that they will help us to attract guests. We also wait for an increase in the number of flights to Batumi, which will help to extend the short summer season on the Black Sea coast.
We will also undertake specific activities that will benefit the entire city, not just our hotel.
How do you assess the current state of Georgia's tourism industry?
In general, throughout the world tourism is facing major challenges after the 2008 financial crisis. Much has changed since then; consumers' expectations have become different. In this case, there is no one separate problem.
Many challenges exist, for example, prices that are very urgent topic in the world. In addition, the demand for quality is very high.
As for us, apart from business interests, we always pay great attention to social responsibility. For example, we always buy products from local farmers which provides for development of agriculture. We are also trying to employ local staff, provide training, promote their development, and we hope that they will be part of our company.
What should the Government of Georgia do to develop tourism, attract tourists and investors?
The country needs a short-term plan for the development of tourism, which will consider the country within a regional context in order to attract tourists in all directions.
The simplest thing the government can do now is to change visa regulations, which created additional challenges for the tourism industry. Iran and India, which have come under the visa regime, are a very promising markets to work with. The Georgian government should think over and open the door to the country for investment and tourists.
In addition, it is necessary to open new flights, which will help increase demand. All this will take about 5 years.
You must use online resources such as Trip Advisor, Air B & B, Four Square.
In general, how do you assess the level of service and the state of tourism infrastructure in Georgia?
Georgia is a welcoming country, and we will encourage this remarkable feature, which will have an effect on the entire tourism industry.
Tourist pointers should be installed on the main roads, the main tourist routes should be cleaned that will allow tourists to enjoy the wonderful views, mountains, gorges, waterfalls.