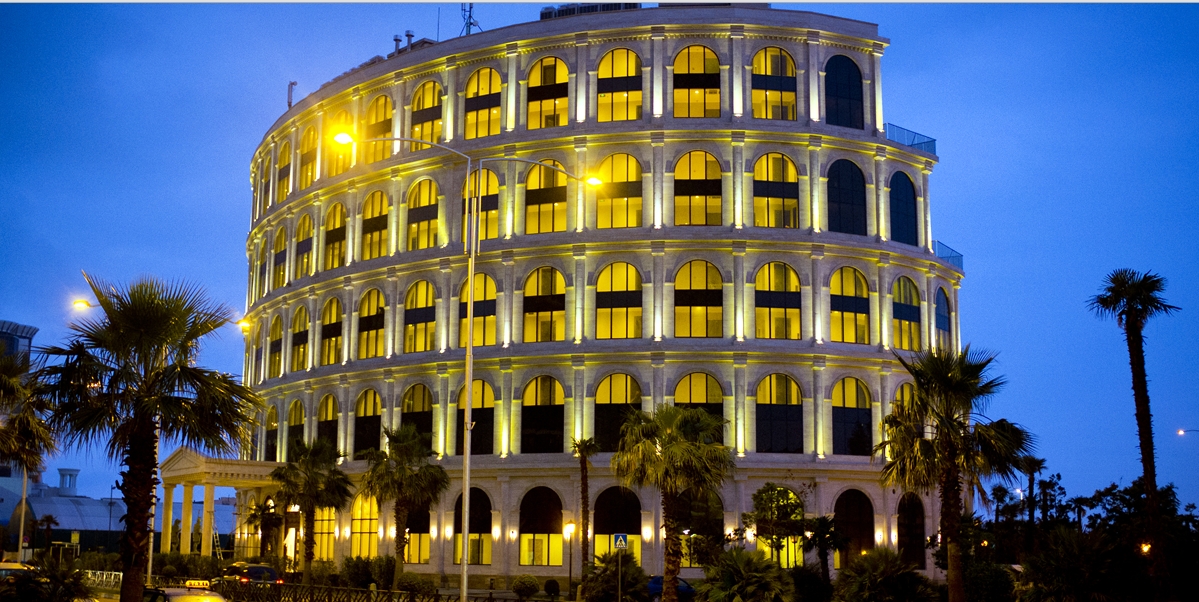 20.08.2015 (Hvino TOUR News). New five star luxury hotel has opened in Georgia's costal city of Batumi, in Georgia's western Adjara region. The five-star Colosseum Marina Hotel resembles the elliptical amphitheater of ancient Rome.
The construction of the hotel began in March 2013 and Mari Group invested $14 million to build the 10-storey hotel with 101 rooms, all with a view of the Black Sea coastline. The facility has a total area of 14,427 m sq.
Georgia's Prime Minister Irakli Garibashvili opened the Colosseum Marina Hotel today with representatives of the local government. "This year 20 projects of new hotels are ongoing in Batumi, in total an amount of $700 million has been invested. This indicates that demand is growing and the numbers of tourists are increasing in Batumi and in the region itself. Tourism is growing in Georgia and it is necessary for the state to support and encourage business," Garibashvili said.
The hotel boom is continuing in Georgia's seaside resort town Batumi with work already started on a new $100 million USD hotel complex.
After opening the new Colosseum Marina Hotel in Batumi today, Georgia's Prime Minister Irakli Garibashvili visited the construction site of new MetroCity Hotel. Metro Atlas Georgia, the company responsible for building the new hotel, has been working on the project since February 2015, employing about 2,000 people.
Garibashvili thanked Turkish investor for their contribution to the MetroCity in Batumi Hotel project, as well as their recent transferal of $500,000 to the government-initiated Solidarity Fund.
The 12-storey MetroCity in Batumi Hotel will have at least 203 rooms. The complex will feature three buildings and 594 apartments. MetroCity will open on June 1, 2016.
To add this Search Box to your website, click here. Many designs are available.