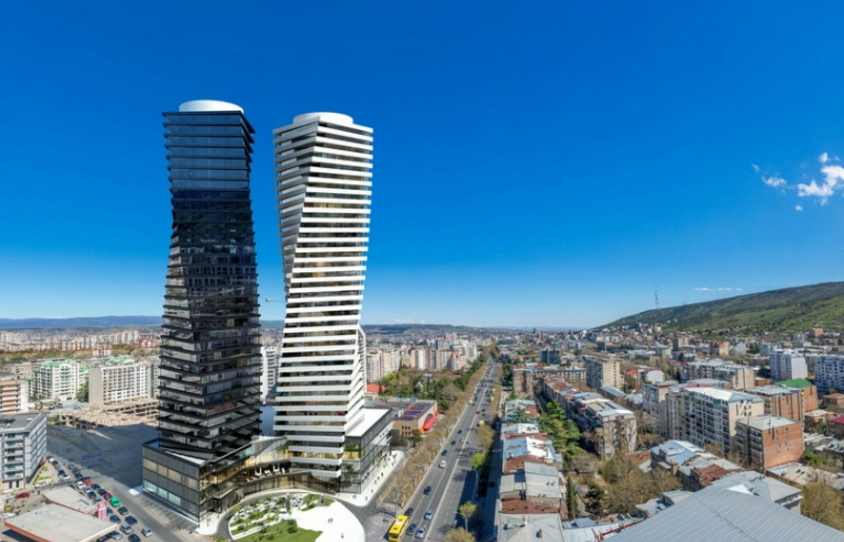 27.10.2015 (Hvino News). The Georgian Co-Investment Fund (GCF), a USD6 billion private equity fund based in Georgia, and Georgian construction company AXIS are to build Axis Towers, twin skyscrapers which, when complete, will be the tallest buildings in Tiblisi.
The glass tower will house a five-star Pullman hotel and will additionally feature an A-class business centre with 15,000 sq m of office space. Meanwhile, the stone tower will comprise of 15,000 sq m of residential property, featuring apartments with impressive views of Tbilisi. The tower will be equipped with all the necessary infrastructure to create the maximum comfort for its residents.
GCF will own 50 per cent of the completed development, while the other 50 per cent will be held by AXIS.
The multifunctional complex consists of two 147 metre tall, 41-storey towers, four floors of which will be underground. One tower will be glazed with dark glass, while the other will feature white stone cladding. The total buildable area of the towers equals 94,000 sq m.
Axis Towers will offer its customers a wide range of options for recreation and entertainment. The skyscrapers will include several facilities such as: a fitness and spa centre; a 25-meter long swimming pool with a sliding roof; a Sky Bar on the top of the towers with panoramic views of Tbilisi; a 1,100 m² concert hall; a shopping mall, several restaurants and cafes. The Axis Towers project will feature an underground car park area with capacity for 500 vehicles. As part of the project, a new street connecting Chavchavadze Avenue and Abuladze Street will also be developed which will house a recreation area with a number of cafes and restaurants. This will improve pedestrian access in Tbilisi and the street will become a place where residents and tourists can gather and meet.
The General Director of AXIS, Giorgi Kapanadze, says: "Axis Towers s an unprecedented project in terms of its scale and functionality. This is a multi-functional complex which includes five directions of development as the skyscrapers will house high-level residential, office, commercial and entertainment areas as well as a 5-star Pullman hotel. AXIS continues to play an important role in advancing Georgia's industrial development and we are especially proud that Axis Towers will be the new landmark of Tbilisi. The project was renewed in cooperation with the Georgian Co-Investment Fund and is progressing actively. I am pleased to announce that residential areas at Axis Towers go on sale today.
CEO of GCF, George Bachiashvili, says: "The Axis Towers project is fully in accordance with the mission that the Georgian Co-Investment Fund seeks to fulfill. By implementing this project with AXIS we are investing US$83 M in Georgia's economy. At the same time, we are supporting the further development of an already successful Georgian company, AXIS. We are also utilising the expertise of the international industrial leaders through our work on this project and creating a range of new local jobs.
"We are glad that the Georgian Co-Investment Fund played a crucial role in making this project happen: with ours and AXIS' efforts several months ago, we were able to renew a project that had stalled for 7 years. Now, the project is expected to be completed in 2017.
"We are confident that Axis Towers will be an outstanding project in terms of its architecture, scale and quality of construction, incorporating best global industry practices. It will set a new standard in real estate not only for Georgia but for the wider Caucasus' real estate market."
© Hvino News
To add this Search Box to your website, click here. Many designs are available.