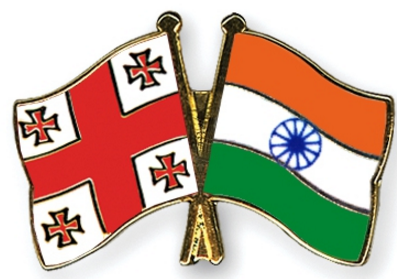 03.11.2015 (Hvino News).Georgia Tourism holds first roadshow in India in partnership with Air Arabia.
There has been a commendable growth of 81% in Indian inbound to Georgia during the first nine of this year, compared to 3,792 Indian arrivals during the same period in 2014. According to Georgia National Tourism Administration (GNTA), they welcomed 6,869 Indian passport holders from January to September, 2015. Speaking to TravelBiz Monitor on the sidelines of the roadshow jointly organized by GNTA and Air Arabia, George Chogovadze, Head of Administration, GNTA, said that the Indian arrival figures have been encouraging since Air Arabia commenced operations to Tbilisi last year.
Chogovadze said that GNTA's efforts are to create more awareness about the destination, especially the MICE potential of destinations like Tbilisi and Batumi. "We have hosted 18 travel writers from India to Georgia last year. We will continue to organize FAM trips for media and travel agents to make the tourism potential of Georgia known in India," he said. Chogovadze said that Georgia is a small country, but diverse in terms of topography, climate, etc. "We have mountains, ski resorts, beaches, wildlife, etc. Cultural tour is quite popular. Georgia is a cradle of wines with 8,000 years of wine heritage," he said.
Georgia offers a lot of entertainment opportunities for leisure travellers. The cities have casinos with quality night life, he said. For MICE groups, Batumi has well developed MICE infrastructure with the presence of all the international hotel chains. Gadauri is a sought after ski-resort destination of Georgia.
As far as ease of travel is concerned, Chogovadze said that Georgia has electronic visa system in place which is cheap and convenient. Georgian online visa costs USD 20 and takes maximum of 7 days for processing.
Sharing his views, Sachin Nene, Regional Manager-India, Air Arabia, said that the response from India for Georgia through their hub in Sharjah has been good since they commenced Tbilisi operations in October 2014. "We started with 2 weekly operations in the winter and added 2 more during summer. Currently, we operate four flights a week to Tbilisi. However, we have permission to operate daily," he said. Talking about the trends, Nene said that it was an Incentive destination when they started operations, but evolved into a family destination slowly.
Nene said that Georgia is a tourist-friendly destination, but there is need for communicating the leisure and MICE potential of the country. "There is need for regular trade activities in the Indian market to promote the destination," he suggested.
© Hvino News
To add this Search Box to your website, click here. Many designs are available.