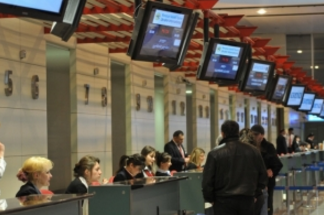 14.01.2016. In 2015 Georgia's Airports served a record number of passengers compared to previous years numbers.
The Aviation Agency of the Ministry of Economy published statistics showcasing that Georgian airports served 12% more passengers in 2015 than the previous year.
According to date, airports in Georgia served a record 2,261,006 passengers in 2015.
The report highlighted that usage of Georgian air space increased by 6.6% with the total number of flights reaching 123,364.
The number of regular and charter flights increased by 4.53%. Georgian airports made 11,409 regular and 2,259 charter flights in 2015.
According to statistics, almost 2 million passengers passed through Tbilisi airport, which was 17.25% more than last year, while Batumi airport served 226,476 passengers – 5.91% more than in 2014, and the airport in Mestia, in northern Georgia, hosted 232 percent more than in 2014.
The number of passengers at Kutaisi airport was reduced by 35,049 and totalled 182,954. The agency explains this with Wizz Air's cancellation of flights to Ukraine.
Meanwhile, the National Tourism Administration of Georgia announced that in 2015 the number of visitors to the country increased by 7% with around 6 million visitors in total, who crossed the border of Georgia.
Source
To add this Search Box to your website, click here. Many designs are available.