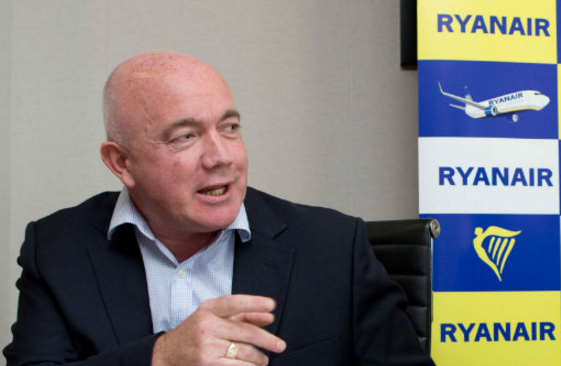 21.02.2016. The Irish low cost airline "Ryanair" expressed an interest towards Georgian air-market, – possibilities of initiating routes to Kutaisi were discussed during the working meeting conducted by the Prime Minister of Georgia with the Chief Commercial Officer of "Ryanair" David O'Brien.
During the meeting it was noted that the growth of interest of low cost airlines to Georgia is caused by the business environment in the country, growth of the tourist flow during the recent years and the possibilities provided to the Georgian citizens by the prospects of visa liberalization with the EU.
Pursuant to David O'Brien, the working group of the airline will study operational and infrastructural capacities of the Kutaisi International Airport. He also expressed hope that the negotiations and consultations with Georgian government will lead to positive results.
"We conducted fruitful and promising meeting with the Prime Minister. Now I am in a completely different spot from Ireland, which is a great privilege to me. I hope that soon we will be able to connect this part of Europe with another" – the Chief Commercial Officer of "Ryanair" David O'Brien noted upon the termination of the meeting.
Dimitry Kumsishvili, the Minister of Economy and Sustainable Development considered the meeting conducted at the Administration of the Government as important and fruitful.
"It was an important meeting, since Ryanair is one of the most fast growing low cost airline on the European market. We have been working with respective company for quite a while and today they visited Georgia with their technical employees to assess the condition of Kutaisi airport as well as evaluate new capacities and directions to make a decision about direct flights from Georgia. We hope that relevant decision will be made as soon as possible," – Dimitry Kumsishvili noted.
The Irish low cost airline "Ryanair" was founded in 1984 and started operating in 1985. At the given stage, its airpark includes Boeing 737-700 and Boeing 737-800 airplanes. Last year the company provided services to more than 90 million travelers. Pursuant to the data of 2015 the airline has 72 bases and is operating in 191 airports.
Source
To add this Search Box to your website, click here. Many designs are available.