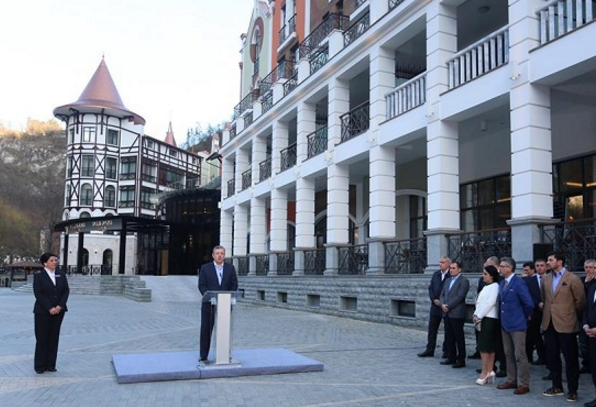 06.03.2016. A major project in Georgia's south will turn the area into one of the best tourist destinations in the region.
Prime Minister Giorgi Kvirikashvili visited the Samtskhe-Javakheti region in southern Georgia yesterday to check on the progress of several projects aiming to boost the tourism potential of the area.
While there the Prime Minister opened a new five-star hotel in Borjomi, a town famous for the eponymous mineral water internationally known as a hangover cure.
Borjomi has a very strategic touristic location as it is close to Bakuriani - one of Georgia's main skiing resorts - and the Borjomi-Kharagauli National Park, which is among the country's largest protected areas.
The company behind the new hotel was global hotel chain, InterContinental Hotels Group. The company invested $32 million USD in Crowne Plaza Borjomi.
"This five-star hotel highlights the importance of Borjomi as one of the best tourist destinations in Georgia," the Prime Minister said.
"For our country tourism is the most strategic field. Tourism will bring the largest income and tourism will employ the most people in Georgia."
Kvirikashvili, mentioning the recent increase in the number of visitors to the country, said: "Last year, despite the not so good economic situation around Georgia, we had an almost 10 percent increase of visitors".
The Prime Minister also spoke about planned infrastructural projects to boost Georgia's tourism potential. He named three main roads that would be either built or renovated in the coming years to link Georgia's tourist destinations and increase the country's transit potential. These included:
A highway linking Kutaisi (western Georgia) and Abastumani (southern Georgia);
A highway linking Kutaisi and Svaneti (one of Georgia's highest inhabited mountainous regions in the country's west); and
Mtkheta-Larsi highway in eastern Georgian linking Georgia and Russia.
Kvirikashvili said all of these projects would be finished by 2020.
While in Samtske-Javakheti, Kvirikashvili also assessed the World Bank project that intended to pave a road to a medieval Georgian monastery.
The program, co-financed by the Georgian Government, would see a 7.2km road section to Sapara Monastery be paved for the first time in the church's history.
"Construction of the road to Sapara Monastery is very important in many ways. The 7km section of road will be opened later this year. This place is visited by tourists, pilgrims, residents of the region and construction of relevant infrastructure around the road is crucial to all of them," the Prime Minister said.
Kvirikashvili also visited farmers and entrepreneurs living in Akhaltsikhe town and nearby villages who launched their businesses thanks to Governmental support projects such as Produce in Georgia, Small Enterprise Promotion Program and eco credit.
Source
To add this Search Box to your website, click here. Many designs are available.