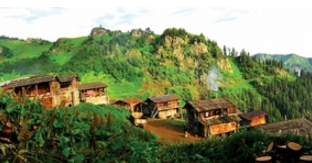 15.08.2016. Georgia's Black Sea region Adjara continues to gain popularity for its sea and mountainous places among foreign visitors choosing to spend their holidays in Georgia.
Prime Minister of Georgia, Giorgi Kvirikashvili, while presenting the majoritarian candidate for the region, announced that the government is working on a plan to turn Adjara into a developed four season tourist destination.
"I am happy to see that the region is full of tourists and visitors. We have a plan and definite intentions for both coastal and mountainous Adjara, aiming to make them even more attractive for tourists," Kvirikashvili said.
The PM emphasized that the plan includes renovation of new roads leading from seaside areas to the mountainous parts of Adjara, as well as construction and promotion of new European style mountain resorts in the region.
The latest statistics published by the Tourism and Resorts Department of Adjara state that the number of tourists visiting the region during the January-July period increased by 73.35 percent y-o-y to reach 21,500 people. The majority of guests are from Russia, Poland, Ukraine and Israel. The information is based on data provided by tourist information centers.
According the Adjara Tourism Department, most visitors are interested in high-mountainous areas and ecotourism.
Source
To add this Search Box to your website, click here. Many designs are available