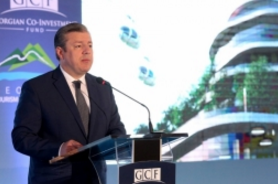 06.10.2016. Georgian Prime Minister Giorgi Kvirikashvili announced at an official presentation Tuesday that the country's Co-Investment Fund will establish a USD 680 million Tourism Development Fund for eight large-scale projects in Tbilisi, Guria, Ajara and Samegrelo (Megrelia).
Kvirikashvili said he hopes the Fund will mark a major turning point in the development of Georgia's tourism sector.
"Georgia has a great deal of potential when it comes to promoting the tourism industry. We can't spare any effort in becoming a distinct destination on the global tourism map…Awareness and interest towards Georgia are growing on a daily basis and setting up the Tourism Development Fund is a very timely step towards achieving this goal," Kvirikashvili said.
The Prime Minister also announced that a multifunctional retail and tourism complexes would be constructed near Tbilisi's central Freedom Square, Sololaki Ridge and Tabor Mountain.
The Tabor complex will include a recreational zone and golf course that will employ up 20,000 people.
The Tourism Development Fund was established to help foster the rapid development of Georgia's tourism and hospitality infrastructure.
Its function also includes the administration of specific programs that help improve the quality of service provided by the hospitality industry. The Fund is also tasked with creating new tourism hubs in less economically developed regions of Georgia.
Source
To add this Search Box to your website, click here. Many designs are available