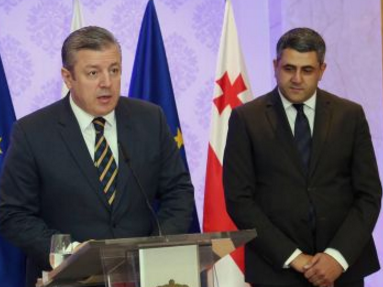 16.11.2016 (Hvino News). Georgian Prime Minister Giorgi Kvirikashvili nominated Zurab Pololikashvili as Georgia's candidate for the position of Secretary General of United Nations World Tourism Organization (UNWTO) for 2018-2021. Zurab Pololikashvili is Georgian Ambassador Spain, and Permanent Representative to the World Tourism Organisation.
The Prime Minister underlined the UNWTO's role in the development of tourism, economic growth and in the process of the country's development. Giorgi Kvirikashvili noted that Zurab Pololikashvili's background fully meets the eligibility criteria for assuming the most demanding duties of the General Secretary of UNWTO.
The event was attended by representatives of the Georgian Government and the diplomatic corps. Georgian Foreign Minister Mikheil Janelidze underlined that it is for the first time that Georgia has a real chance to present its candidature for such a high-ranking post.
The Secretary General position at the UNWTO for 2018-2021 will be selected in May 2017 by an Executive Board comprised of 33 nations.
Zurab Pololikashvili for many years has been holding leadership positions both in private and in public sectors. In 2005-2006 he worked as Deputy Foreign Minister; in 2009-2010 he served as Minister of Economic Development.
In September 2016 UNWTO organized its first
conference on wine tourism
in Georgia.
© Hvino News
To add this Search Box to your website, click here. Many designs are available.