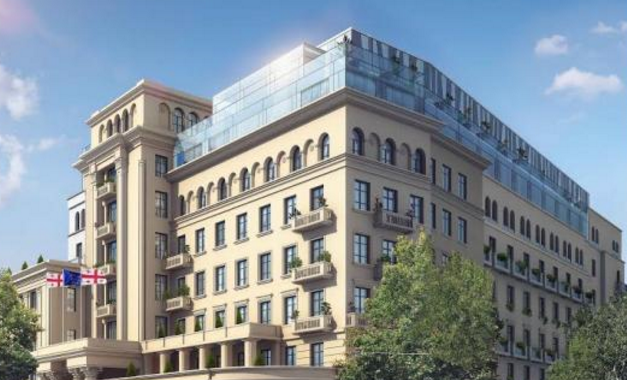 20.12.2016 (Hvino News). Hilton is to introduce its flagship Hilton Hotels & Resorts brand to the capital of Georgia with the signing of a management agreement with Granat LLC. The 206-guest room Hilton Tbilisi is set to open in early 2019. The building's historic façade will be preserved as part of the design, while a striking glass roof will be constructed on top of the building and will house the hotel's rooftop bar and spa.
"Hilton Tbilisi joins a robust portfolio of Hilton Hotels & Resorts either trading or in development across 30 European capitals, underscoring our regional strategy to expand into more Eastern European cities," said Patrick Fitzgibbon, Senior Vice President of Development, EMEA, Hilton. "Tbilisi's diverse economy, with substantial international infrastructure investment, a burgeoning events calendar and leisure growth, makes the city a promising market to be introducing our flagship brand to."
Located on Kostrova Street, Hilton Tbilisi will be equidistant between two of the city's most vibrant and colourful districts. Tbilisi's main thoroughfare, Rustavelli Avenue, three kilometers away and spotted with picturesque architecture, is home to the city's main cultural, religious and government buildings. Vake, the city's busy commercial district and the heart of Tbilisi's developing financial center, can be found the same distance in the opposite direction. Hilton Tbilisi will also be two kilometers from the city's main train station and 15 kilometers from Tbilisi International Airport.
Dimitry Kumsishvili, former Minister of Economy and Sustainable Development of Georgia said, "The long term goal of Georgia's Tourism Strategy 2025 is to develop the country as a sought-after tourist destination and increase the international profile of Georgia. Projects such as Hilton Tbilisi are key to broadening the appeal of Tbilisi and Georgia to more international visitors and will help boost tourism to the city."
Elguja Tsintsadze, Chief Executive Officer, Granat LLC, said, "This is our first hotel development and we are proud to be working with Hilton on our maiden hospitality project. The exterior of the Soviet era building will be fully restored, while a stunning glass roof will be constructed on top of the hotel in a USD 50 million investment. The result will be one of the city's finest and most unique hotels."
In addition to the rooftop bar, the hotel will include an all-day dining restaurant, lobby bar and a street facing café. For business and events visitors, the hotel will offer more than 1,000 square meters of function and meeting space, in addition to an Executive Lounge and business center.
"Hilton is the world's leading hospitality brand and throughout its nearly 100-year history it has continually pioneered into new destinations," said Andreas Lackner, Regional Head, Full Service Brand Management, Hilton. "This magnificent addition in Tbilisi will invite our guests to visit the charming capital city, while sharing in our love of hospitality."
Hilton Hotels & Resorts has 18 properties currently under development across Europe, with two hotels in Georgia: Hilton Batumi on the Black Sea coast, which opened in the summer of 2015, and Hilton Garden Inn Tbilisi Chavchavadze, which is currently under construction and set to open in 2018 in the heart of Tbilisi's financial district.
Hilton Tbilisi will be located at 59 Merab Kostava Street, Tbilisi, 0179.
Press Release
Win FREE bottle of Saperavi in our
Win!Wine
Lottery: Just write a comment to
this photo
. Happy holidays!
To add this Search Box to your website, click here. Many designs are available.