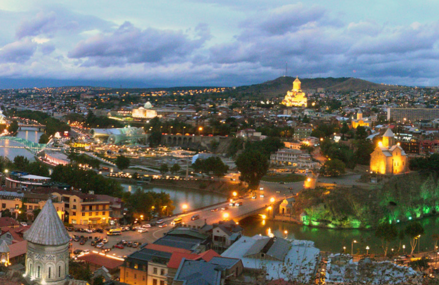 by David Thompson
06.01.2017. The head of Georgia's National Tourism Administration, Giorgi Chogovadze, revealed 6,350,825 international visitors arrived in Georgia last year, which is 449,731 more than the year previous, according to local media.
The largest number of tourists is reported to come from Azerbaijan (1,523,075, an increase of 9.3%)
Second place is Armenia (1,496,246, an increase of 1.9%) followed by Turkey (1,254,089 – a decreased of 9.9% from last year).
In fourth place was Russia with 1,037,564 tourists visiting Georgia in 2016, a full 12% more than in 2015.
Visits from Ukraine increased by 21.8%, amounting to 172,631 people.
The latest data indicates year-on-year visitors from Europe also show positive signs; with the total number of travellers from Lithuania, Latvia, Czech Republic, Bulgaria and Germany all significantly increasing.
"A exceptional increase in tourism was observed from the following countries: Iran (+485%), India (+ 199%), Saudi Arabia (+ 116%), the Philippines (+ 89%), Oman (+ 75%), and China (+46%)," Chogovadze said.
Income from international tourism was also reported to have increased, amounting to USD 1.7 billion in three quarters of 2016, representing $ 177 million more than figures from the previous year.
Source
Win FREE bottle of saperavi wine in
Win!Wine
Lottery: Just write a comment to
this photo
. Happy holidays!
To add this Search Box to your website, click here. Many designs are available.