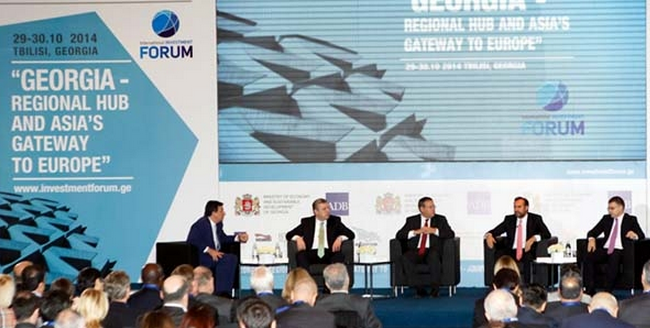 31.10.2014. An International Investment Forum "Georgia – Regional Hub and Asia's Gateway to Europe" took place in Tbilisi on October 29-30, jointly organized by the Ministry of Economy and Sustainable Development of Georgia and the Asian Development Bank (ADB).
The Forum, held at the hotel Radisson Blu Iveria, hosted over 300 guests from diverse sectors and countries, ranging from private, international and domestic companies to large international business associations, including the American Chamber of Commerce in Georgia (AmCham Georgia), the largest international business association in Georgia, with up to 160 members.
Irakli Gharibashvili, Prime Minister of Georgia, officially opened the Forum saying "Georgia is a rapidly developing democratic country with one of the world's most attractive business climates, liberal trade, low taxes and strategic location that have turned thr country into the new regional frontier for investment opportunities."
The PM, in his speech Why Georgia Matters, emphasized Georgia's role in the region and the importance of the recently signed Association Agreement with the EU, as well as the Deep and Comprehensive Free Trade Area/Agreement (DCFTA), which "opens vast opportunities" for Georgia while turning it into an increasingly important business center in the region.