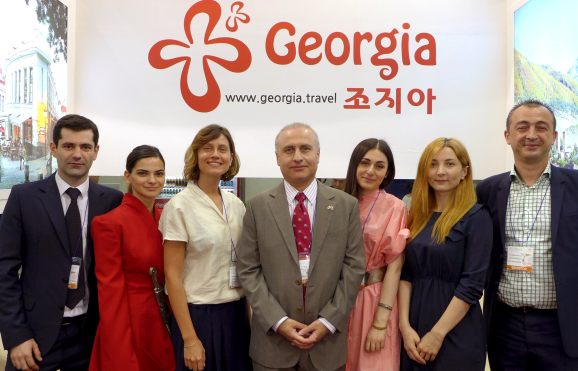 Amb. Apkhazava (center) with GNTA
staff at Coex  / The Korea Herald
by Joel Lee
21.06.2015. Georgia has described itself as the hidden tourist gem of the Caucasus for many years.
Aided by government-led promotion and online marketing, tourists from around the world are opening their eyes to the country's treasure trove of attractions.
Situated at the crossroads of Europe and Asia, Georgia has had cultural interactions with neighboring Russia, Azerbaijan, Armenia and Turkey for centuries. As a result, the tourism experience is multifaceted and multilayered, offering a mix of historic sightseeing, religious tours, cultural events, winemaking, spa-bathing and caving.
Georgia has an extremely diverse climate and terrain, from the Black Sea coast to the Caucasus Mountains, and from alpine meadows to semi-deserts, valleys and wetlands. Visitors can go skiing, paragliding, horseback riding, rafting, biking, hiking and ballooning.