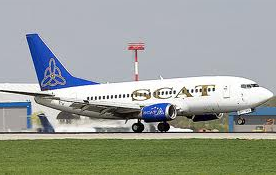 29.04.2016. Kazakh airline SCAT will start flights to Batumi in early June, according to the head of Adjara's Tourism Department, Mamuka Berdzenishvili.
The number of Kazakh citizens travelling to Georgia in the first quarter of 2016 grew by 21 per cent, which necessitated increased air passenger traffic between the two former Soviet countries.
"For the first time in history, we will have direct flights to/from Kazakhstan. The flights will start from the beginning of June. SCAT Airlines will make flights from Kazakh city Aktau to Batumi," said Berdzenishvili.
He also said plans are in the works to increase the number of flights to Batumi from Turkey and Belarus.
Established in 1997, SCAT Airlines' main base is in Shymkent, Kazakhstan. The company's fleet consists of mainly western-owned aircraft and offers services to more than 80 domestic and international air routes.
According to data from the Georgian National Tourism Department, the number of tourists from Kazakhstan in Georgia in the first quarter of 2016 was 6,290, up 27 per cent from the same period last year.
Source
To add this Search Box to your website, click here. Many designs are available.