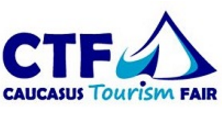 15.04.2016. Georgia's capital Tbilisi is hosting the 18th International Tourism Fair of the Silk Road countries Caucasus Tourism Fair (CTF) 2016.
The CTF 2016, dedicated to promoting the revival of Georgian domestic tourism and foreign tourism destinations, is being held from April 14-16 at ExpoGeorgia.
Representatives from 68 tourism operators from eight countries are in Georgia to participate in the exhibition to showcase the attractiveness, sites and cultures of each country.
Georgia's Economy Minister Dimitry Kumsishvili and head of Georgia's National Tourism Administration (GNTA) Giorgi Chogovadze officially opened the CTF 2016 this morning.
Tourism development is very important for us [and] we have a developed strategy in this direction. Following this strategy the number of international visitors coming to Georgia should increase from 5.9 million to 11 million. These types of exhibitions contribute to us achieving this goal," said Kumsishvili.
Meanwhile, the GNTA official added tourism expos helped raise the awareness of Georgia around the world.
During the first quarter of 2016 the number of tourists who visited Georgia increased by 15 percent. Such exhibitions will help the country raise its awareness abroad and attract more tourists," said Chogovadze.
The exhibition, held in the 11th pavilion, was organised by ExpoGeorgia and was supported by the GNTA, Tbilisi City Hall, the Agency for Protected Areas of Georgia and the National Tourism Awards. The expo showcased a wide range of services and products in the travel and tourism industry.
Source
To add this Search Box to your website, click here. Many designs are available.