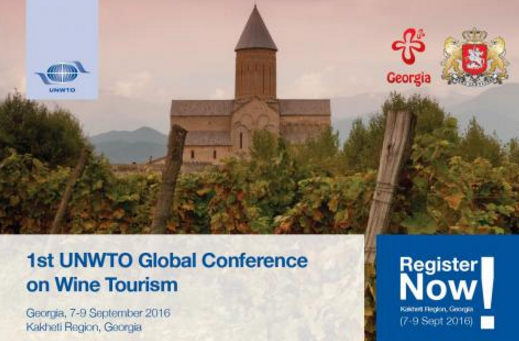 17.08.2016 (Hvino News). The World Tourism Organization (UNWTO) in collaboration with the Georgian National Tourism Administration will present the 1st UNWTO Global Conference on Wine Tourism to be held in the Kakheti wine region of Georgia from 7-9 September.
See the conference program below.
The Conference will have a unique and dynamic format in which the sessions will take place in different wineries. Expert speakers will provide snapshot presentations to lead the debates which will ensue at each of the tables. Participants will be requested to actively participate in the interactive debates with the expert speakers which will be rotating among the tables. The conclusions of the Conference will be a compilation of all the information debated during each meeting.
"Wine tourism represents a growing segment with immense opportunities to diversify demand. In the case of Georgia, this potential is well-known and we are very pleased to be holding the first UNWTO Global Conference on Wine Tourism in the country," said Taleb Rifai, Secretary-General of UNWTO.