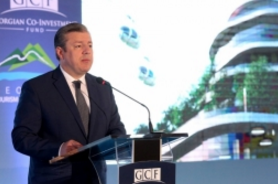 06.10.2016. Georgian Prime Minister Giorgi Kvirikashvili announced at an official presentation Tuesday that the country's Co-Investment Fund will establish a USD 680 million Tourism Development Fund for eight large-scale projects in Tbilisi, Guria, Ajara and Samegrelo (Megrelia).
Kvirikashvili said he hopes the Fund will mark a major turning point in the development of Georgia's tourism sector.
"Georgia has a great deal of potential when it comes to promoting the tourism industry. We can't spare any effort in becoming a distinct destination on the global tourism map…Awareness and interest towards Georgia are growing on a daily basis and setting up the Tourism Development Fund is a very timely step towards achieving this goal," Kvirikashvili said.
The Prime Minister also announced that a multifunctional retail and tourism complexes would be constructed near Tbilisi's central Freedom Square, Sololaki Ridge and Tabor Mountain.