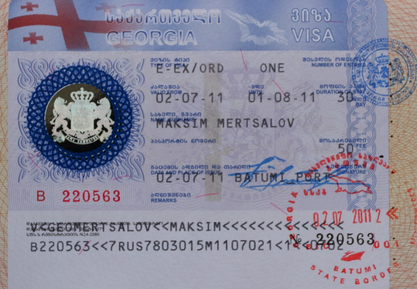 29.01.2015. In a move which will give a major boost to the tourism sector, the Georgian Government will launch the electronic visa (e-visa) facility from February, 2015, announced the Prime Minister Irakli Garibashvili.
This initiative is part of the strategy which the Government's economic team set in order to maintain the long-term stability of the GEL. The measures are about encouraging export, tourism and direct foreign investments' (FDI) inflow in Georgia.
We want to increase the number of tourists visiting our country. For this purpose electronic visas will be launched in Georgia. This will simplify the procedures of visiting Georgia for the tourists," Garibashvili said.
Meanwhile, the Government is working on the investment project ideas which should be implemented in different regions of Georgia.
"We have already created a very attractive offer for the investors. This offer includes creating the favorable conditions for the investors in different regions of Georgia. The projects that are planned to be implemented are about building the hydro power stations, developing and promoting the local production, etc. Now we are in the process of establishing communication with the businessmen, who should be interested in investing in the regions. We will do our best to encourage the private business," Garibashvili said.
As a result of these activities, Garibashvili believes that Georgia will maintain the financial stability despite the fact that Georgian national currency Lari (GEL) continues to depreciate.
Garibashvili also announced that the prices on products will not increase as well, especially when the prices on oil has been decreasing.
Lari depreciation in Georgia is a part of global processes. Almost every national currency is depreciated worldwide and Georgian Lari is part of this general tendency. Floating exchange rate functions in Georgia and this is the most optimal regime for Georgian economy," Garibashvili said.
"If we compare Georgia to other countries, we will see that almost every national currency is depreciated and compared to them Lari maintains its stable positions. For example, Ukrainian Hryvnia has been depreciated in value against the US Dollar by 88 percent; Russian Ruble – by 83 percent; Belarusian Ruble – by 56 percent; Moldovan Leu – by 31 percent; Swedish Krona and Norwegian Krona – by 30 percent; Polish Zloty – by 27 percent; Hungarian Forint – by 24 percent; Euro – by 22 percent. As for Georgian Lari it is depreciated by 12 percent followed by the British Pound (GBP) which is depreciated by 10 percent," Garibashvili said.
"These indicators show that there is nothing to worry about as the whole world faces the same problem and especially when we see that the prices on products do not increase. Moreover, the Government works very efficiently to maintain the financial stability in the country," he added.
Source
To add this Search Box to your website, click here. Many designs are available.