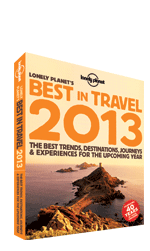 15.11.2012 (HTN - Hvino Tour News). Lonely Planet, the leading travel publisher, has named Georgia as one of Top 10 Countries for 2013 in its annually published Lonely Planet's Best Value Destinations. Lonely Planet draws upon the input of its staff, authors and online community for recommendations for the book, with the final list being decided upon by an in-house panel of experts. Excerpt from the book follows:
Georgia is, like its Caucasian neighbours, little known to most travellers. Those who do go come back raving about a beautiful, friendly country that offers excellent, inexpensive (though potentially waist-expanding) cuisine, typified by the near-universal khachapuri (cheese pie). In recent years the country has been speeding up its tourism development, resulting in a growing number of good-value hostels and homestays, which are great ways to meet locals as well as keep costs down. Look out for August if you're hitting Batumi or elsewhere on the Black Sea coast, but otherwise anytime is a good time to visit this up-and-coming destination where even a bus, train or marshrustka (minibus) ride will give jaw-dropping views worth far more than the meagre fare you're likely to be charged.
"Destinations on our 'best value' list are for those who want to make the most out of their dollar when traveling," said Andy Murdock, Lonely Planet's U.S. Digital Editor to CNN. "While the choices are not the cheapest destinations on the planet in every case, they're great options for travelers who want to visit somewhere new and interesting without draining their bank account."
© HTN (Hvino Tour News)